An overview of how to approach the application process for an environmental Master's or PhD program
So you want to go to graduate school in an environmental field. After extensively researching your options, you find a program that looks like a great match for you... 
Now what.
Don't Let the Graduate School Application Process Intimidate You
Often, the worst part of applying to environmental graduate programs is knowing where to even start. While the undergraduate application process follows a pretty straightforward path, things tend to get more complicated when it comes to Master's and PhD admissions. For many prospective students, the thought of applying to graduate school can induce fear and confusion.
You may have heard horror stories about the dreaded process of contacting potential advisors. Perhaps you're confused about the numerous application requirements and how they vary by school. 
Let me guess...your undergraduate curriculum didn't include a crash course on applying to graduate school? In this article, we break down the application process for environmental Master's and PhD programs. We explain how steps can vary across schools. We give tips to help you navigate the process like a pro!
The Two Stages of the Graduate Admissions Process
For most research-based graduate programs in environmental fields, the application process follows two distinct stages:
Stage 1: Connect with a Graduate Advisor
You contact professors to inquire if they would be willing to take you on as a graduate student and serve as your advisor. You must get approval from a professor to serve as your advisor before the program will accept you.
This process typically includes: 
Sending an email inquiry

Submitting your resume/CV, recommendations, and personal statement

Interviewing with professor 
Stage 2: Submit Formal Application to the School
You submit a formal application package to the school. For some schools, you must complete Stage 1 and secure your advisor before you can submit your formal application. For other schools, you can undertake both stages at the same time.
The application package typically includes:
application paperwork

personal statement 

recommendations 

undergraduate transcripts

GRE scores (if required)
Further in the article, we go into more detail on how to successfully complete each of these stages. 
Programs with a Single-Stage Application Process
Some graduate programs follow a single-stage process in which you apply by submitting an application package to the department or graduate school. This simplified process largely mirrors the undergraduate application experience. 
Single Stage: Submit Formal Application to the School
The application package typically includes:
application paperwork

personal statement 

recommendations 

undergraduate transcripts

GRE scores (if required)
What Types of Programs have a Single-Stage Application Process?
For coursework-based, Master's programs, you typically apply by submitting an application package. These non-thesis (and increasingly online) programs emphasize professional development rather than research. You may need to interview with faculty and take other steps. However, you usually do not need to secure a faculty advisor before formally applying.  
You can view a full list of non-thesis Master's programs using the CJB Network search tool.
Some research-based, Master's programs allow students to select an advisor after enrollment, but this is less common.
In both of these scenarios, program admission depends on the formal application process - not the discretion of any specific advisor. 
When Should I Apply?
Early in your graduate school search, you should sketch out the application timeline for the programs that interest you. You need to know the application due dates in order to plan when you need to acquire references and contact potential advisors. It will serve you best to do these steps well in advance of any due date. 
Pro Tip: It can take a long time to complete preliminary steps like getting your references and connecting with potential advisors. Begin these steps at least several months prior to your target application date to give yourself enough time.
Fortunately, most environmental graduate programs follow a similar schedule for their application due dates. 
On average, the majority of schools accept fall admission graduate applications around December and January. 
For instance, for a Master's of Environmental Science that begins in the fall of 2021, a school would typically review applications for priority consideration in December or January of 2020.
There are exceptions to this pattern, so you should always carefully note the application due dates for your specific programs of interest.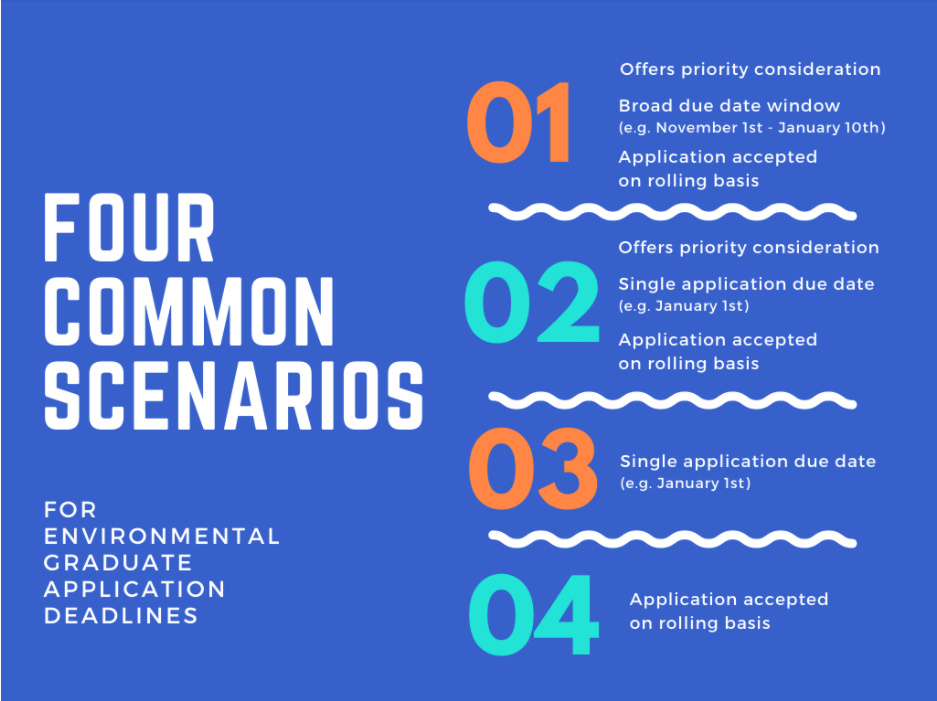 Keep in mind, some schools will also have separate deadlines for domestic and international students. It is also important to consider fall or spring admission - some schools offer the option to begin a graduate program in the spring, while others only accept applicants for the fall.
Pro Tip: You should always discuss application dates with potential graduate advisors. Some advisors will have certain timeframes when they anticipate selecting their graduate students. This could be in advance of the school's formal deadline. In some cases, an advisor may already accept you into his or her lab before you have even submitted your application - we will go into more detail on this in the next section. 
Connecting With Your Graduate Advisor
If you are only considering a non-thesis, coursework-based Master's, then you can probably skip this section.  However, for most research-based programs, you will need to find a graduate advisor who will take you on as a student. 
As part of your graduate school search, you will be scouring department websites, reading academic papers and talking to your network - all with the goal of identifying potential advisors who could be a great match for you. 
What do you do once you have identified an ideal professor to hopefully serve as your advisor? 
This section looks at the steps you can take to successfully make your hope for a connection into a reality. 
Sending an Email of Inquiry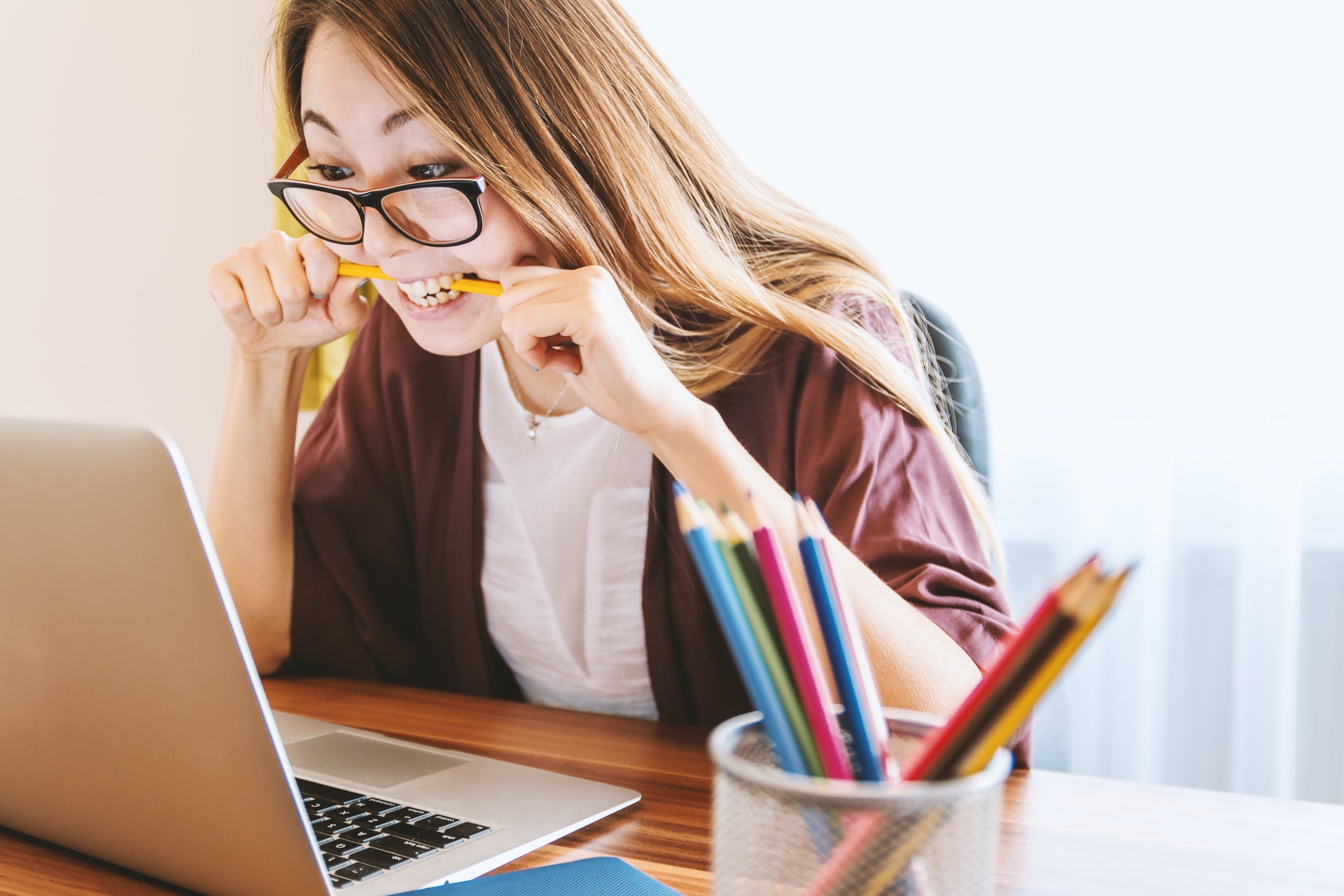 As a first step in connecting with a potential advisor, you can send an Email of Inquiry in which you introduce yourself and express your interest in a graduate opportunity. 
It is perfectly normal to feel absolute dread about the idea of sending emails to professors who don't know you. Take a deep breath. You can do it! 
What to Include in an Email of Inquiry
An effective Email of Inquiry will communicate the key information while keeping the overall message focused and concise. If you want to see what an Email of Inquiry looks like in the environmental sciences, the American Ornithological Society has crafted a great template. 
Keep in mind the following best practices:
Write a Good Subject Line - Make sure it is relevant, focused, and matter-of-fact. Professors get overwhelmed with emails. The subject line is what they see in their inbox, and it can affect whether or not they open the email.  
Present Relevant Research and Experience - You want to grab the professor's attention and show why you are a great candidate. Stick to the main points. Attach your resume/CV for the fine details.
Explain Why You Are Interested - In your emails to professors, you want to explain what it is about their research, the lab, and the program that interests you. You may want to note specific literature published by the advisor that captured your attention. 
Keep Your Email Lean and Focused - You want to strike a balance between presenting the key information and keeping your message focused and not overly long. 
See our Email of Inquiry Checklist below for a review of what to include in your message.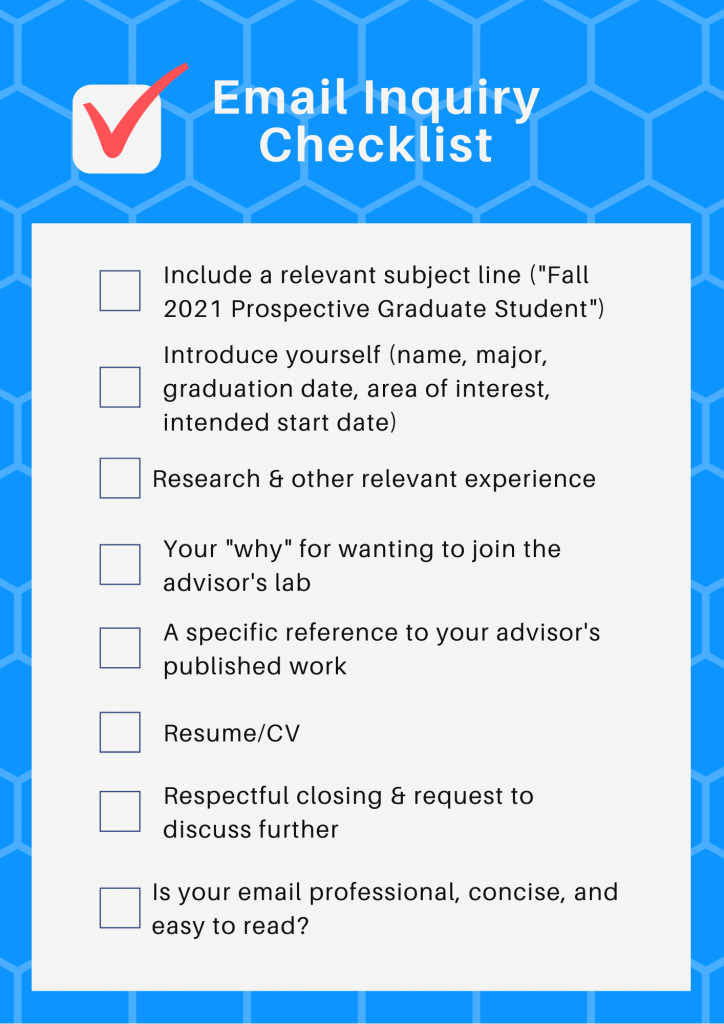 If you do not receive a response to your email, don't feel discouraged. They may have overlooked your message. They may be delayed in responding. You can send a polite follow-up email after a week or so. If you still do not hear back, you can continue sending additional follow up emails until you receive a response.
Advisor Applications
In some cases, advisors will require interested students to complete an application separate from the formal graduate school admissions process. These applications will vary from advisor to advisor. For the application, you might need to include: a short essay, your resume/CV, a summary of previous research experience, GPA, GRE scores, and references. If an advisor requires an application, you can still send an introductory email.
Sometimes, professors will explicitly advertise assistantship opportunities. These listings will typically present specific application steps. You should always thoroughly review an advisor's website to not overlook these opportunities and application instructions. 
What Comes Next?
Now...let's say you receive a response from your top choice advisor. What are the next steps? They can vary amongst advisors, but here's what you can expect:
The advisor may ask for a phone or video interview to get to know you better. If this goes well, he or she may also invite you to visit the lab on campus and meet with other graduate students in the program. 
If the advisor does not explicitly mention an in-person visit, I encourage you to ask. Here's why:
It shows you are truly invested in the opportunity 

It gives you a better idea of whether the program and lab are right for you
Pro Tip: Some schools will encourage applicants to contact advisors before applying to research-based programs, but will state it is not required. ALWAYS reach out to advisors in these cases – otherwise, you will put yourself at a disadvantage to other applicants.
Formally Applying to the School
Before completing your formal application to the school, you should try to figure out the weight it carries.
For coursework-based Master's programs, the school may focus exclusively on your formal application in determining whether you get in. For some research-based programs, the approval of your advisor will play a much more important role than your application.  
Regardless, you should make sure you follow application instructions carefully. 
Below, we list the common components of environmental graduate program applications:
resume/CV

letters of recommendation

GRE scores (if required)

undergraduate transcripts

statement of purpose/personal statement

Application fee (varies, generally $65-$85)

International Applicants: TOEFL or IELTS scores
You will notice that some of the components of the formal application also play a role in your engagement with advisors. When you contact potential advisors, they will also likely want to see your CV, letters of recommendation, GRE scores, and statement of purpose before making a decision. 
Statement of Purpose
Your application essay, commonly known as a statement of purpose, is a chance for you to present yourself in writing. Make sure to explain your objectives and goals in pursuing a graduate degree. It is important to include:
why you are pursuing your specific degree track

why the school's program is right for you

the type of research (or professional work) you are interested in pursuing

how you will add value to the program
For more information on creating a strong statement of purpose, check out this template by Northeastern University.
Application Requirements
Now that you have a solid foundation of how to approach the application process, let's crunch some numbers. Below we run through what environmental graduate programs are looking for in your GRE scores, GPA, undergraduate coursework, and additional requirements.
> Do I need to take the GRE?
If you dislike standardized testing, we have some good news for you. Environmental graduate schools are increasingly waiving the GRE requirement. 
CJB Network has compiled listings of every environmental graduate program in the United States including admissions requirements. Over 38% of environmental Master's programs do not require the GRE. 
If the GRE requirement is really getting you down, CJB Network's search tool allows you to filter out schools that require the GRE. 
For programs that do not require the GRE, you can still submit your result, and you will probably want to do so if you scored highly.
> What are the minimum GRE scores accepted by most environmental graduate programs?
As a general rule of thumb, you should try to score in at least the 50th percentile across each section in the GRE. Many programs will prefer you score higher than the 50th percentile, but you can use this as your baseline to gauge your progress while preparing for the test.
Always do your due diligence and check out the numbers for your specific programs of interest. Some schools set explicit minimum scores. Many schools require the GRE but do not set a minimum. If you reach out to your program of interest, they may tell you the average percentiles for admitted applicants (e.g. "most accepted applicants score in the 80th percentile across verbal and quantitative sections"). 
Ideally, your GRE results will meet or exceed these averages. However, keep in mind that most graduate programs will view your applications holistically. You can retake the GRE as many times as you want. If you are on the fence about retaking the test, it doesn't hurt to reach out to the graduate school for advice.
You should also ask potential advisors if they would like to see GRE test scores. While the program itself may not require it, some advisors may request you still take the test.
> Is my undergraduate GPA good enough for environmental graduate school?
About ⅔ of environmental graduate programs set a minimum GPA that applicants must meet in order to be accepted. For these programs, the minimum GPA requirement averages 3.0. If your GPA falls short of this number, do not stress. The minimum GPA requirement varies by program. Furthermore, many programs will view your GPA together with other factors like your experiences and personal statement. Simply put, for many programs you can overcome a GPA below 3.0.
Worried your GPA won't make the cut? Using CJB Network's search tool, you can filter schools based on their GPA requirements.
> Is my undergraduate coursework enough?
Many environmental graduate programs require that applicants have completed certain undergraduate coursework. These requirements vary widely but typically include core subjects related to the program focus.
If you lack some of the required coursework for program admission, the department may insist that you take these classes prior to enrollment. 
> I'm an international student. Are there additional application requirements for me?
Most environmental graduate programs require that international students take the TOEFL, IELTS, or PTE. These standardized tests assess skills in reading, writing, listening, and speaking English. Always check with the schools to determine which test results they accept and if they have set any minimum requirements.
International students may be exempt from taking these exams if they received undergraduate degrees from institutions where all class instruction was in English.
Now What?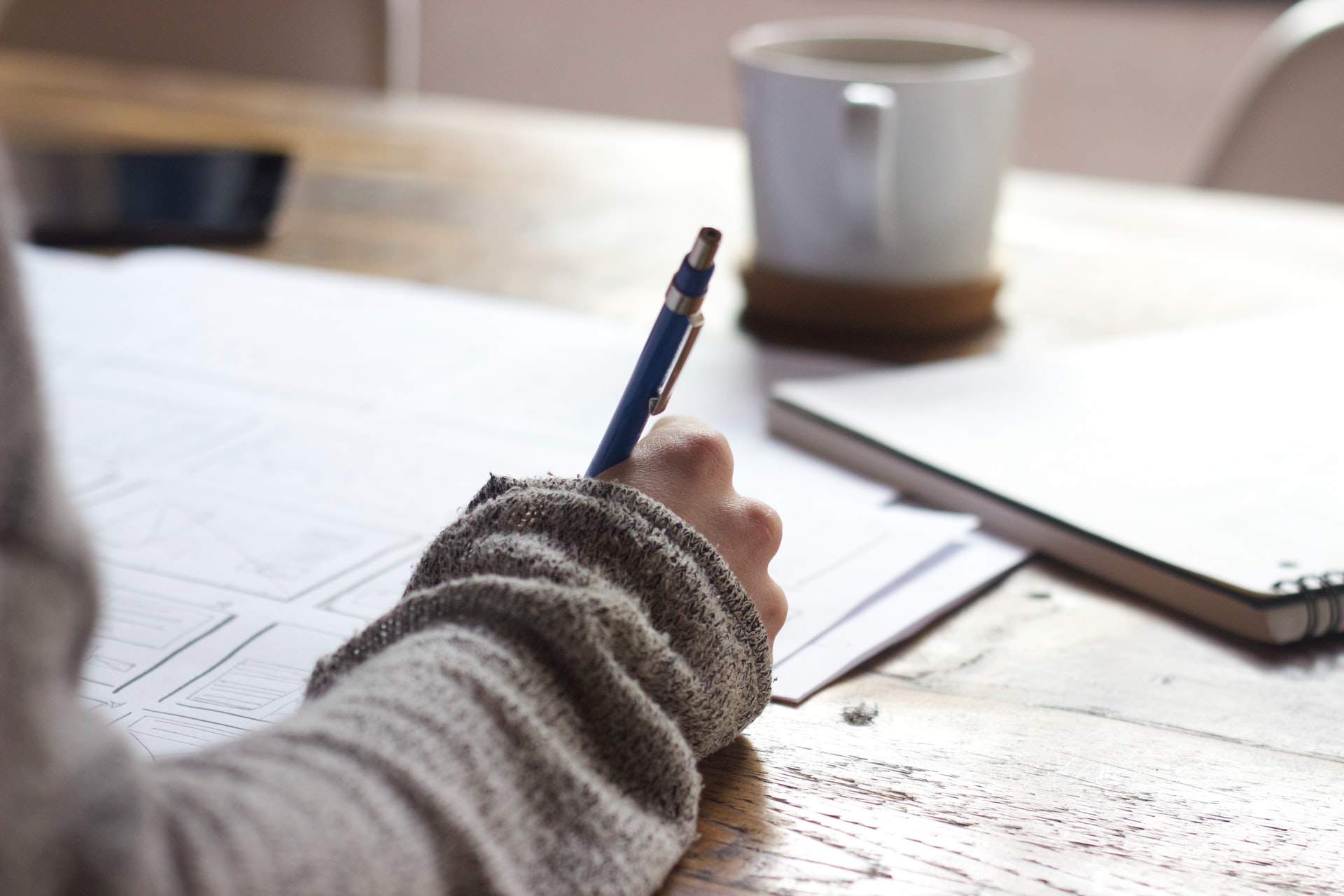 Now that you have a basic understanding of the application process to environmental graduate programs, it's time to get to work. Whether it be sending cold emails, preparing for the GREs, or crafting your statement of purpose, it's important to remember persistence is key.